Supreme Court hears abortion case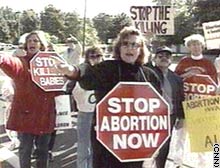 I havent posted on politics in awhile. I was struck today by the last sentence of USA Today's article,
Heated session centers on abortion notification
With its new makeup the Supreme Court is reexamining old issues. In a recent session the court as asked how a New Hampshire law requiring a pregnant minor to notify a parent before having an abortion might apply in a real emergency.
It's been five years since the Court has heard an abortion case
and with Roe v. Wade in the back of everyone's mind its hard to think any ruling the court might make wont have its place in history; either preserving rights by confirming the precedent, or overturning it and to some degree restricting rights.
Details on the specific questions posed by the Justices can be found in the article. My attention was grabbed by American Civil Liberties Union lawyer Jennifer Dalven's statement that, "once a minor arrives in an emergency room, it is too late for her to go to court" for a waiver of parental notice. As a young adult not far removed from years as a minor
I was struck by the level of understanding shown by Dalven.
I agree wholeheartedly, that by the time most minors decided they needed to go to the emergency room, it would be too late to require all of them to go through the bureaucratic process currently in place.